Tours at the Northwest Railway Museum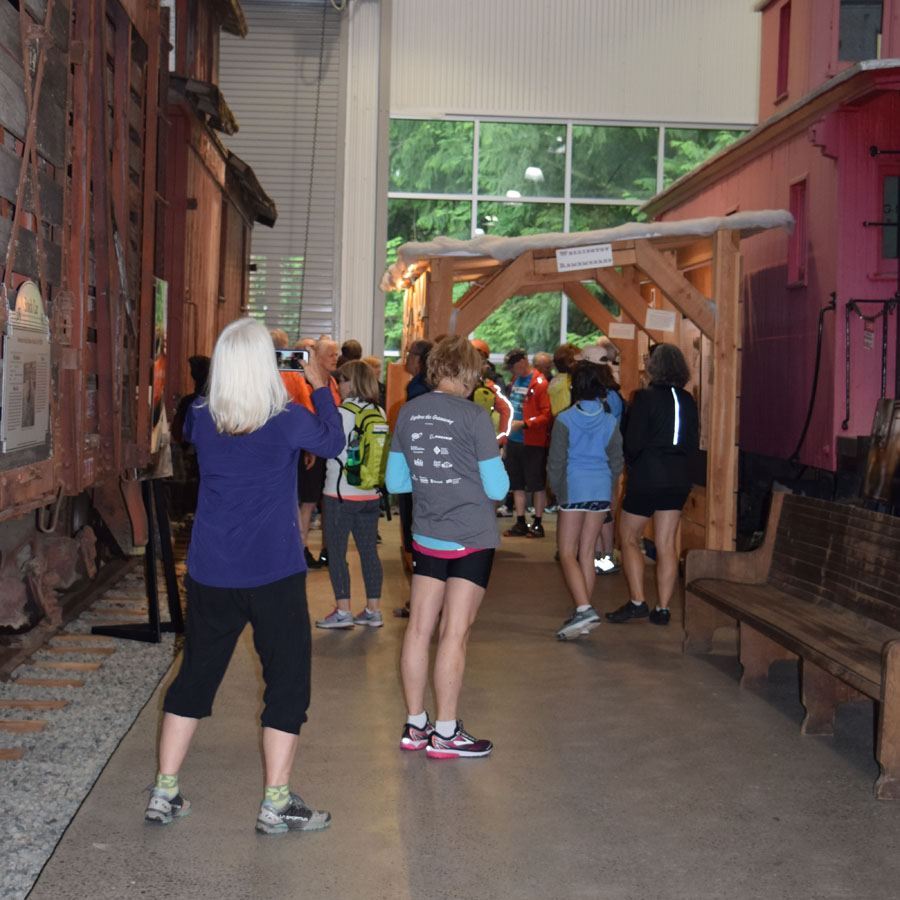 Currently the Northwest Railway Museum is overing our Grand Tour Package. See the tab below to find out more.
Also, self-guided tours are always available at the Snoqualmie Depot and along the Centennial Trail, where interpretive signs highlight some of the large artifacts in the Museum's collection. Further, there are free activities available from the Bookstore between 10am and 5pm: a History Hunt scavenger hunt for children ages 5 and up and a Treasure Hunt for toddler and pre-school age children.

Grand Tour Package
The premier tour offered at the Northwest Railway Museum; the Grand Tour Package is a docent lead experience that begins at the Railway History Campus. Your docent will give a tour of the 25,000 sq. ft. Train Shed Exhibit Hall that includes large and small artifacts and several exhibits exploring how the Railways Changed Everything. Your docent will escort you through chapel car 5: Messenger of Peace and the 001 caboose! Next you will walk over to the Conservation and Restoration Workshop for a first hand look at current restoration projects. Next the tour will board the train and travel west to the top of Snoqualmie Falls where you will view water going over the top of Snoqualmie Falls and a beautiful view of the valley and river below the Falls. Your docent will stay with you during your trip to the Falls, interpreting the scenery and providing both historic and contemporary context. The Package ends when the train returns to Railway History Campus. The round-trip experience lasts approximately 2.5 hours.
Dates and Times:
(please arrive early to purchase tickets ~ reservations recommended)
Select Saturdays @ 11:15am.
Additional dates:
you may reserve a Tour on any other running date for groups of 10-20 people by email: info@TrainMuseum.org.
Cost:
Adults $25, Seniors (62+) $20, Children* (2-12) $15, under 2 = no cost *The Tour Package is not recommended for children under the age of 5.
Reservations:
Tickets should be purchased in advance. ***If you wish to schedule a Tour on a different date, email: info@TrainMuseum.org.
What is a docent? At the Northwest Railway Museum, a docent is a volunteer who has completed the Docent Training Program. The program focuses on teaching techniques and public speaking, as well as tour content development. Only qualified docents may lead tours or participate in education programs at the Northwest Railway Museum.
Grand Tour Package groups are limited to 15 people and are first come, first serve. Reserve your Grand Tour Package today to guarantee your spot on the next tour by contacting the bookstore clerk at 425/888-3030 x 7202.