Conservation & Restoration Workshop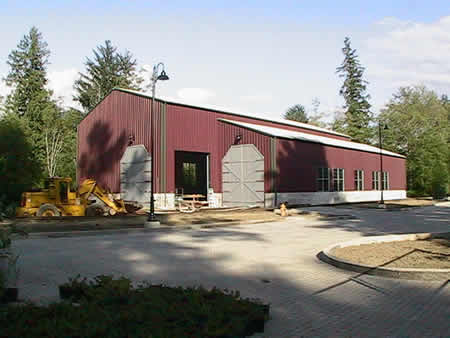 Phase one of the Railway History Campus is the Conservation and Restoration Workshop, a facility to perform collection care to the standards prescribed by the Secretary of the Interior
Caring for large artifacts
This facility is where the Museum's full time and volunteer staff perform collection care on large objects. The Conservation and Restoration Workshop ("CRW") allows all types of collection care to be performed inside a heated building, including preservation, rehabilitation, restoration, and reconstruction.
The Museum identifies large objects - or artifacts - as those weighing more than 1 ton and examples include steam and diesel-electric locomotives, passenger coaches, freight cars and maintenance of way vehicles such as cranes and snow plows.
A purpose-built structure, construction began October 5, 2005 and the Conservation and Restoration Workshop was dedicated on August 5, 2006. The facility was placed in service in January 2007 and incorporates 8,200 sq.ft. Click here to view Construction Photos.
Since 2007 major projects have included the restoration of chapel car 5 Messager of Peace, SPS Coach 218, the rehabilitation of White River Timber Co Caboose 001 and Weyerhaeuser Timber Co Locomotive 1 that ran on the White River Timber Co line. At present, the major rehabilitation project is the Northern Pacific Railway steam Locomotive 924, and smaller projects are being performed on each of the passenger cars that visitors regularly ride on at the Museum.
The current artifact under restoration, the Northern Pacific Steam Locomotive 924, has been successfully nominated to the City of Snoqualmie and King County Landmarks Register. The Snoqualmie Landmarks Commission met in Snoqualmie on November 19, 2015 and voted to designate the 1899-built locomotive. Commissioners toured locomotive 924 now undergoing rehabilitation in the Conservation and Restoration Workshop, and asked a variety of informed questions. Commissioners later convened in Snoqualmie's Council Chambers to vote on the staff recommendation to place the object on the Snoqualmie and King County Landmark Registers.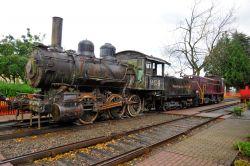 The staff report made a number of interesting observations about locomotive 924:
The NPR Locomotive 924 is significant under (King County Landmarks) Criterion A1 for its association with the growth and development of King County. Locomotives were the engine of the industrial revolution and western expansion, and the Northern Pacific Railway (NPR) was instrumental in setting broad patterns of settlement and development in King County and across the northern portion of the country from Minnesota to Washington. NPR 924 served this railway for twenty-five years.
NPR 924 is significant under Criterion A3 as an excellent and rare example of a classic late 19th century steam locomotive. It features many of the common elements of both larger and smaller locomotives, and in many respects was "state of the art" for the era. There are very few locomotives originally owned by mainline railroads that survived beyond WW II.

NPR 924 is also significant under Criterion A5 as an outstanding and rare example of a switching locomotive constructed by Rogers Locomotive Company in Paterson, New Jersey, the second largest builder of steam locomotives in America. Rogers was an innovative manufacturer who developed many features that became common – or even standard – on nearly all steam locomotives. Rogers produced more than 6,000 locomotives. Only 20 known examples remain world-wide; 11 of those are in the United States.
Please note the CRW is an active work site and is not open to drop in visitors; all visitors must make an appointment in advance with a member of our staff. We cannot guarantee access will be granted, even with advanced notice. Thank you for your understanding.
Using the CRW
| | |
| --- | --- |
| | |
| Intricate metal work one of the capabilities the CRW allows. | Fine interior finishing is a specialty! |
| | |
| A heated space allows collection care even in winter. | The CRW is particularly appreciated for roof work. |
| | |
| Connection to the Museum's railway allows easy access. | Complete carbody rehabiliation takes place without regard to weather. |