Collection: Polson Logging Company Side Dump Car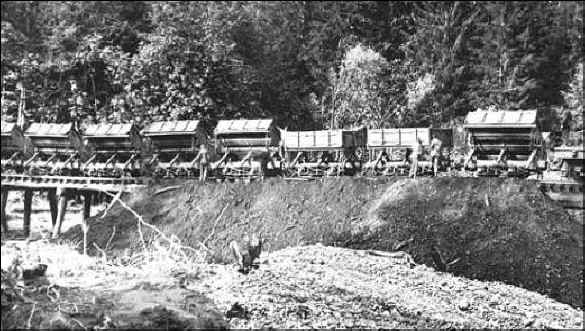 A string of Polson Logging Co. side dump cars filling in a low trestle. H.G. Nelson photograph.
Constructed by Seattle Car & Foundry circa. 1915, this car was used in the construction of the logging railroads of the Polson Logging Co. in the Grays Harbor area of Washington State. Material such as dirt and gravel was loaded in the four cubic yard box and the load could be dumped to either side of the track. To dump the load, rings over chains on the opposite side to be dumped are removed and the body tilts. In 1945 Polson was acquired by Rayonier Inc. The two cars in the collection were donated by Rayonier in 1968. The last use at the museum was in the 1980's.
The proposed period for the restoration is the 1950's while in service with Rayonier. Several major changes were made to the cars over the years with the most significant being the replacement of the 24" diameter wheels and journal boxes with 33" wheels and journal boxes from archbar freight car trucks. One of the other changes to the cars was the substitution of 2x12 lumber in the dump box sides, replacing the original 2x8's.
History researched and written by Richard Wilkens