Ride the Steam Train
Join us for Steam Train special event weekends for a Steam Train ride behind Northern Pacific Locomotive 924! Steam locomotive 924, an 1899 Roger's built 0-6-0 served the Northern Pacific Railway in Washington until 1923, and continued in service for the Inland Empire Paper Company until donated to the Museum in 1969. Today the 924 is a King County Landmark.
2023 Steam Train excursions are planned for Mothers' & Fathers' Day Weekends, and the first weekends in October and November. Tickets will go on sale around a month prior to each event. Visitors ride the Snoqualmie Valley Railroad aboard historic railroad coaches through the Upper Snoqualmie Valley along 5.5 miles of the original 1880s Seattle Lake Shore and Eastern Railway. The scenic train ride between North Bend and Snoqualmie Falls operates on 2-hour schedule with 30 minute stop at the Railway History Campus. Tickets must be purchased in advance. Everyone over the age of 2 needs a ticket.
*Due to Covid-19 pandemic reopening restrictions; train excursions comply with Washington State reopening restrictions.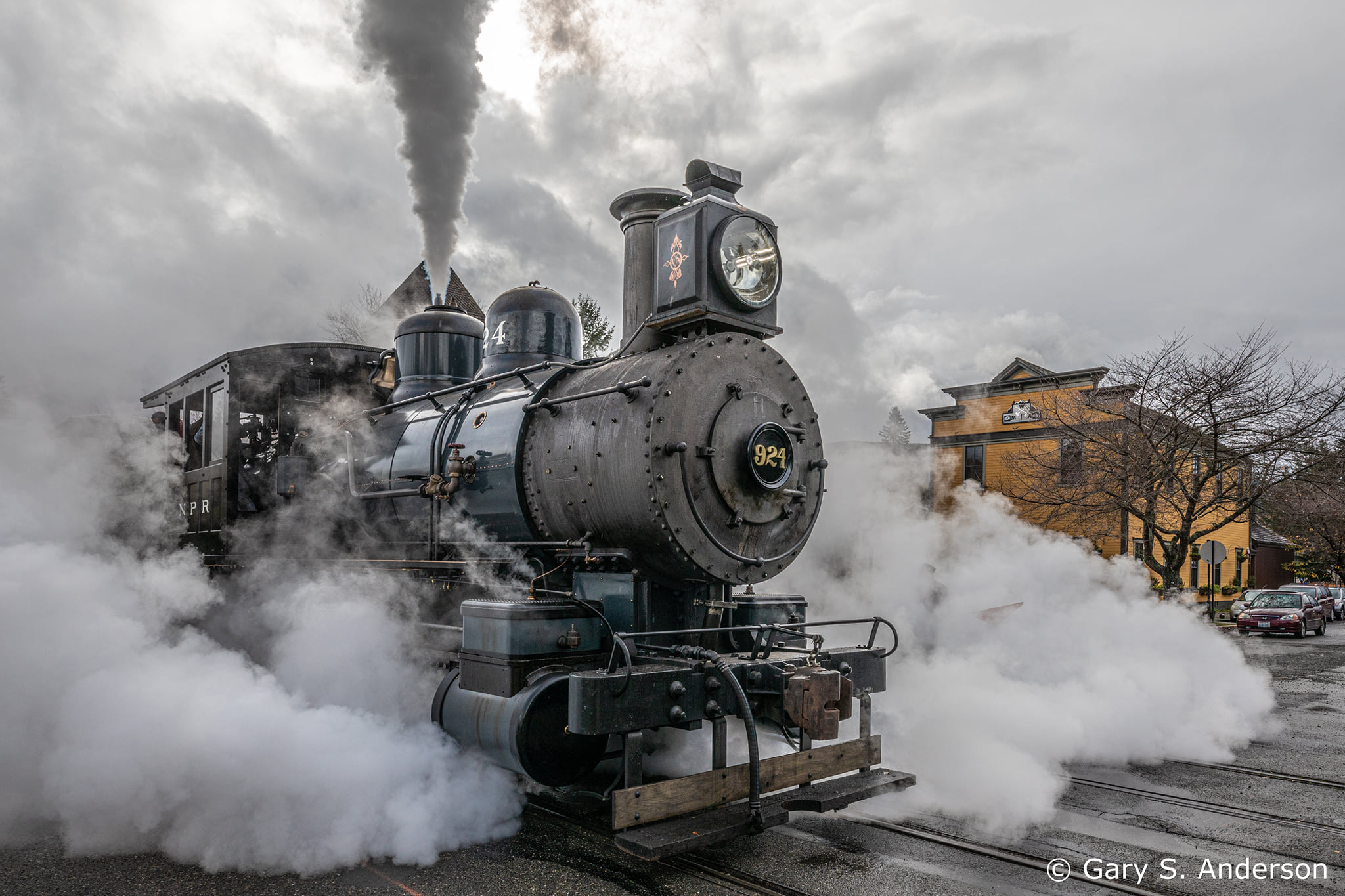 ---
2023 Fall Steam Train Excursions: First Weekends in October and November
Traveling west from North Bend through Snoqualmie to the top of Snoqualmie Falls, a sacred site to the Snoqualmie People, to see a scenic view of the valley below. Visitors then travel east back to North Bend. Visitors view the scenic sites in upper Snoqualmie Valley on their 2-hour round trip. Passengers will stop at the Railway History Campus for a half hour visit to the Train Shed Exhibit Hall.
Departing Saturdays and Sundays*

Board in Snoqualmie or North Bend. Round trip: approx. 90 minutes.
North Bend Depot
205 E McClellan St, North Bend
10:30 AM
12:30 PM
2:30 PM

Snoqualmie Depot
38625 SE King St, Snoqualmie
11:00 AM
1:00 PM
3:00 PM

Children under the age of 2 are free!
---
* No passes, discounts, coupons, groups rates.

The Museum accepts cash, checks with a western Washington address and phone number, Visa, MasterCard and American Express.

Sorry, prices and schedules are subject to change without notice.
Accessibility
Northwest Railway Museum coaches are authentic and historically accurate. They feature limited doorway widths and steep stairwells not fully accessible to persons with disabilities. Our train crews are always prepared to assist you when entraining or detraining. However train crews are not permitted to lift or carry passengers on or off the train, but we do have a hand-crank wheel chair lift for wheelchair bound passengers. Please advise the train crew about your special needs prior to boarding so they may best meet your requirements.
Helpful Hints
1. Arrive early to enjoy the downtown. This way there is no rush to find parking and get tickets before the train leaves at its departure time.

2. Before boarding the train check out the restroom at the depot. There are no restrooms on the train.

3. Dress for the weather. If it is a cool, rainy day, bring jackets. If it is a warm, sunny day, dress in layers to stay cool if its too warm. Bring an extra bottle of water for the ride.

4. Bring a camera. There are some amazing views and neat artifacts along the way.

5. Turn off the phone and have fun! Take the time to enjoy what it might have been like to ride a train a hundred years ago.
6. Remember to pack and wear your favorite mask that securely covers both your nose and mouth.
---