Great Northern Railway Locomotive 1246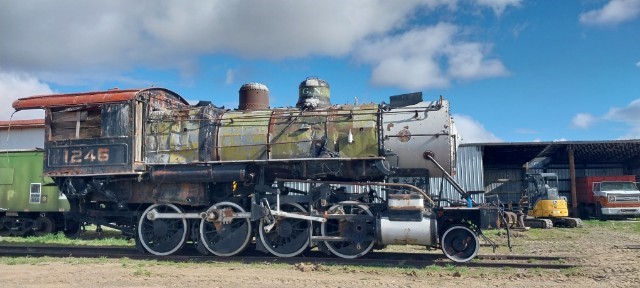 The Northwest Railway Museum is delighted to announce that the Great Northern Locomotive 1246 is returning home to Puget Sound!  The Northwest Railway Museum is the new owner of this iconic steam locomotive and is moving it to Snoqualmie, Washington. Please help partner in this historic event with a contribution to help offset the more than $80,000 cost of moving the locomotive. Learn more in the Museum's blog post announcing the acquisition: Consolidation of Efforts
Great Northern Locomotive 1246 was built in 1907 by the Baldwin Locomotive Works and operated by the Great Northern Railway until 1953. It is a class F-8 steam locomotive, which has a wheel arrangement of 2-8-0. The 1246 pulled freight trains throughout its career ad served primarily in Western Washington. In the 1950s the Great Northern scrapped all of its F8 locomotives except for two: this engine and, locomotive 1147 which was donated to the City of Wenatchee and remains on display there. Locomotive 1246 was retired in 1953 and donated to the City of Seattle for display at the Woodland Park Zoo.
From July 1953 until June 1980, this locomotive sat at the South Entrance of Woodland Park Zoo entertaining generations of children. For many, the locomotive was as entertaining as the elephants and bears. However, in the late 1970s the Zoo evolved from an amusement park with animals into a conservation organization.  So this classic iron horse was no longer responsive to their mission and a plan was hatched to rehome it elsewhere in Seattle. The Museum of HIstory and Industry (MOHAI) agreed to display Locomotive 1246 at the Montlake campus but the City of Seattle was unable to budget the $100,000 required to move and restore it. The Northwest Railway Museum (formerly the Puget Sound Railway Historical Association) was also interested in exhibiting the locomotive but ultimately it was auctioned off and sold to a private collector. In 1980 the locomotive was disassembled and moved to southern Oregon for storage.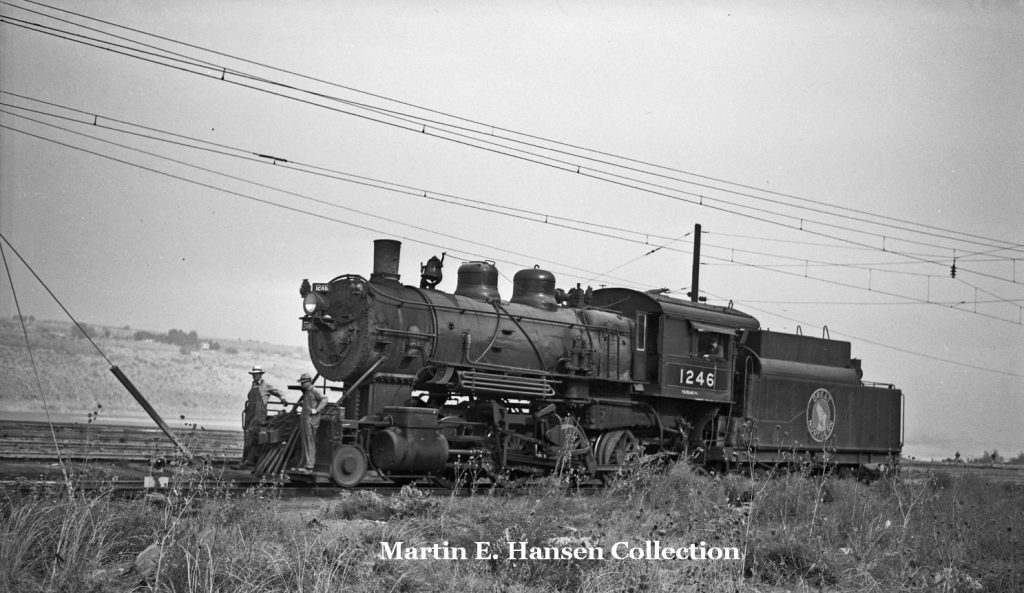 The private collector passed away in 2021 and his collection of 14 steam locomotives and other rail equipment was acquired by the Oregon Coast Scenic Railroad at Tillamook, Oregon. The Northwest Railway Museum and the Oregon Coast Scenic Railroad are both 501(c)3 tax exempt organizations and have agreed to exchange locomotives to better reflect the needs of their respective missions and collections policies:  The Great Northern Railway 1246 is now owned by the Northwest Railway Museum and the Union Pacific (Oregon Short Line) 529 is now owned by the Oregon Coast Scenic Railroad.
The locomotive 1246 is in several parts with its boiler resting on but detached from the main frame of the locomotive.  Each component will be moved via crane and truck to the Museum where it will be assessed to determine the next steps.   Anticipated costs include,
Move the locomotive from southern Oregon to Snoqualmie, $88,000.
Move of locomotive tender to Snoqualmie, $35,000.
Initial assessments, $15,000.
Cost of constructing indoor exhibition space, $750,000.
Rehabiliation and Restoration, $500,000 – $2.5 million depending on condition and exhibition recommendations.
More Info
Donate