Weyerhaeuser Timber Company 1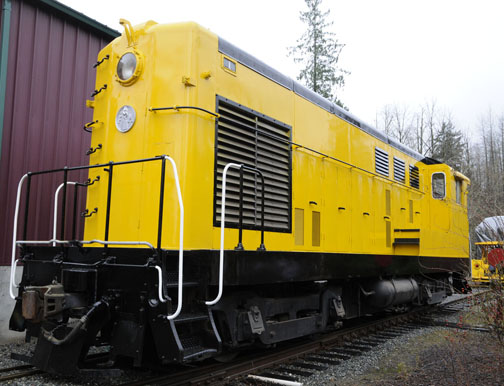 Weyerhaeuser Timber Company #1 Fairbanks-Morse 1951 H-12-44 constructed by Fairbanks-Morse in 1951. This switcher-type locomotive has 1,200 horsepower, 4 axles, is geared for a top speed of 60 miles per hour and has a total weight of 246,000 pounds. The Raymond Loewy-styled car body remains distinctive.
Fairbanks-Morse is well known for its opposed piston diesel engines used in marine applications varying from submarines to ferry boats. This same diesel engine was used in a line of railroad locomotives the company manufactured from the mid 1940s until 1963.
The #1 is a diesel-electric locomotive: a diesel engine turns an electric generator and electric motors turn each axle.  It has an air compressor to supply an air brake system and has seating for two crew members.
When purchased new by Weyerhaeuser, the #1 was used on the company's White River Branch to haul lumber from the White River Mill near Enumclaw (WA) to an interchange with the Northern Pacific Railway (now BNSF, but the tracks have been torn up) and the Milwaukee Road (now abandoned).  It directly replaced a steam locomotive and did so because of its lower maintenance and operating costs.
Weyerhaeuser retired the #1 in the mid 1970s and it was sold to Pacific Transportation Service.  The Northwest Railway Museum purchased the #1 in 1987.
Rehabilitation:
In late 2009 the locomotive was moved into the Conservation and Restoration Workshop for rehabiliation. The locomotive is receiving electrical work, engine work, and will be repainted. Work is planned for completion by Winter 2011.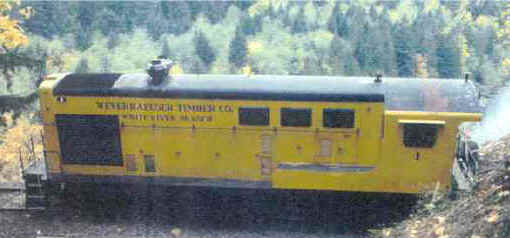 Lettering and color samples were found under several coats of paint. Lettering was carefully traced and then reapplied with masking film.

Fairbanks Morse hired famed industrial designer Raymond Loewy to streamline the design of their switcher. Loewy was known as the father of industrial design and is credited with other popular designs including the Shell logo, the Greyhound bus, and the GG1 electric locomotive.