The Railroad Changed Everything...
---
Railway History Campus open only to Santa Limited ticket holders on Saturdays and Sundays, November 26-December 19. Railway History Campus closed to general public on Saturdays and Sundays, November 26-December 19 and December 25.
---
Santa Train is now sold out

for both Yuletide Express and Santa Limited options

. Sorry, there is no waitlist capability. Thank you to everyone who joined us for the 2022 season!

If you have Santa Train tickets and are attending Santa Train:
Check your tickets:Yuletide Express departs from Snoqualmie Depot and Santa Limited from North Bend Depot.
Dress for the weather: Though the Snoqualmie Valley is at under 500 feet we are expecting storms the first two weekends of the event; the trains will still run.
Friday-Monday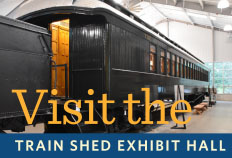 ---
Ride the Rails: Saturdays, January-March*. Saturdays and Sundays, April through October.

Snoqualmie Depot & Depot Bookstore Hours: 10am - 5pm, daily. Closed Thanksgiving, Christmas and New Year's.
Railway History Campus Hours: Fridays through Mondays, November-March, 11 am - 4 pm (Closed Saturdays and Sundays, November 26-December 19 and December 25). Wednesdays through Mondays, April thru October, 11 am - 4 pm.

Price: $28 per adult (age 13-61), $24 per senior (age 62+), $14 per child (2-12) for Train Rides. Prices may very for special events.

No admission to visit the Snoqualmie Depot. $10 per adult (age 13+), $5 per child (2-12) to visit the Railway History Campus Train Shed Exhibit Hall.
Related Sites: Chapel Car 5 Messenger of Peace, Wellington Remembered.
---
Pioneer Coffee Discount
The Northwest Railway Museum has partnered with North Bend Pioneer Coffee to offer 25% of drink orders when customers show their train tickets at time of order!
---
Information, Ticketing and Visitors Services Inquiries
(425) 888-3030 ext. 7202
If the voicemail picks up, Visitors Services is helping another customer, please leave a message and they will get back to you. On busy days this may take some time but they are working on getting back to requests as quickly as possible. Because of the multiple site locations at the Railway Museum, other staff extensions are typically unable to assist with visitors services inquiries as they do not have access the ticketing system.
---
The Northwest Railway Museum gratefully acknowledges financial support received from: