---
Experience how the railroad changed everything
---
---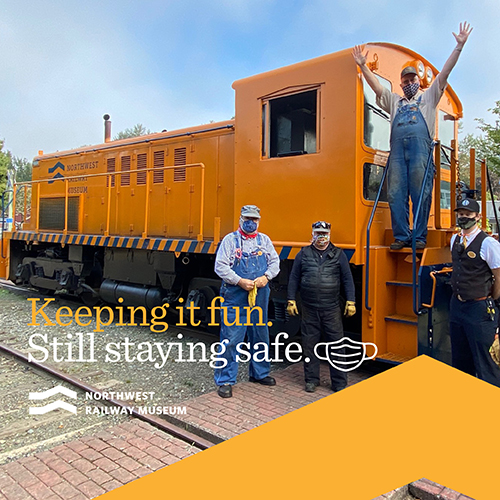 Join us Saturdays and Sundays, on a socially-distanced, scenic train ride through the upper Snoqualmie Valley and Thursdays-Sundays for a visit to the Train Shed Exhibit Hall. Tickets must be purchased in advance. For more information about our social distancing restrictions please visit our Social Distancing Updates page.
Members can call Visitor Services at 425.888.3030 x7202 to reserve their tickets

Masks covering both nose and mouth are required during the duration of your visit
Both the Museum and the Snoqualmie Valley Railway are still operating, at reduced capacity.

---
Ride the Rails: Saturdays and Sundays, April through December; Saturdays, January to March.

Snoqualmie Depot & Depot Bookstore Hours: 10am - 5pm, daily. Closed Thanksgiving, Christmas and New Year's.
Railway History Campus Hours: 11am to 4pm, Thursdays-Sundays.
Price: $20 per adult (age 13-61), $16 per senior (age 62+), $10 per child (2-12) for Train Rides.

No admission to visit the Snoqualmie Depot.
$10 per adult (age 13+), $5 per child (2-12) to visit the Railway History Campus Train Shed Exhibit Hall.
Related Sites: Chapel Car 5 Messenger of Peace, Wellington Remembered.

The Northwest Railway Museum gratefully acknowledges financial support received from: