---
Experience how the railroad changed everything.
---
| | | | |
| --- | --- | --- | --- |
| | | | |
---
Ride the Train and Visit the Railway History Campus!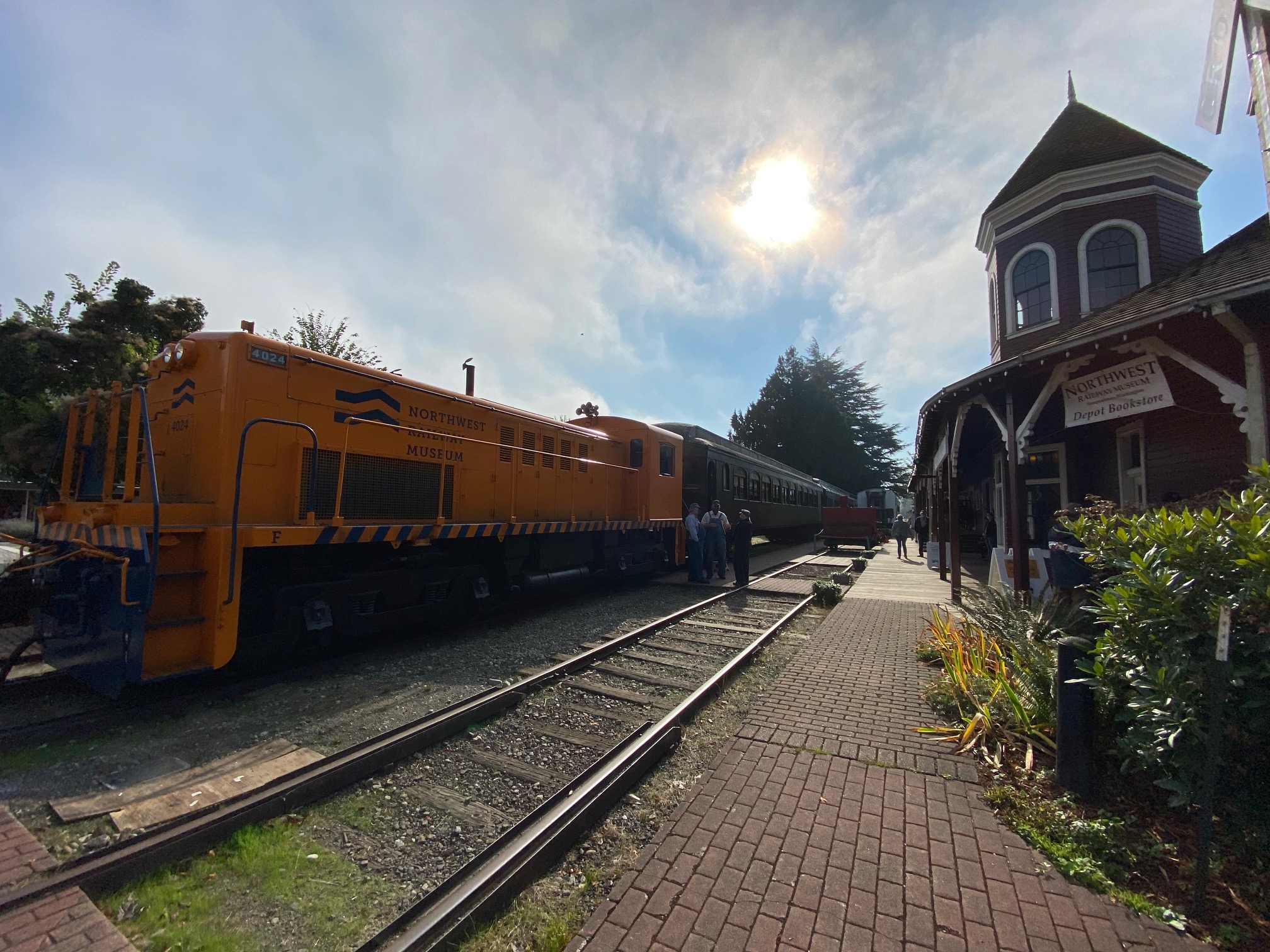 Train rides resume on Saturdays and Sundays October 3rd! Join us on a socially-distanced, scenic train ride through the upper Snoqualmie Valley aboard historic rail equipment. Journey east to North Bend, and then travel west to the top of Snoqualmie Falls before returning. Tickets must be purchased online, in advance of your train ride; fare includes admission to the Train Shed Exhibit Hall (before or after your train ride). The Train Shed Exhibit Hall is also available for a stand alone visit. Located a mile from Snoqualmie Depot at 9312 Stone Quarry Rd, the Railway History Center is open on Thursdays through Sundays from 11 am - 4 pm, and on Wednesdays from 1 pm - 4 pm. Tickets must be purchased in advance.
Museum members can call the Depot Bookstore to reserve their tickets

Time indicates arrival window - you may stay as long as you like

Face coverings/masks are required during your visit

A new, one-way path through multiple exhibits and large objects has been created to help maintain physical distance and to protect everyone's health
Social Distancing Updates

We are currently limited to 6 customers at a time in the bookstore and one household at a time in the Northwest Railway Museum's Snoqualmie Depot Waiting Room and Freight Room, so please wait outside the door for someone to exit if we are at capacity.
Based on the Governor's emergency proclamation and orders from the State of Washington and King County health officials on August 20, the Northwest Railway Museum's gallery spaces are now allowed to reopen following Covid-19 Health and Safety guidelines.
Museum events are still suspended until Phase 3. Based on the guidelines Museums are currently still not allowed to host any events or Docent Tours until their county is in Phase 3. The Northwest Railway Museum is located in King County which is still in Phase 2. We will make announces available here when we are able to host events again.
As a public gathering space, this is a preventative action to slow the spread of the COVID-19 virus and ensure the safety of our community, visitors, staff and volunteers. We ask that all visitors over the age of 2 wear a mask while visiting; for a historic look, bandanas are available for purchase in the Depot Bookstore.
We will post any updates to this page as they become available.
---
Snoqualmie Depot Hours: 10am - 5pm, daily. Closed Thanksgiving, Christmas and New Year's.
Riding the Train: Regular trains run Saturdays and Sunday, 2020 Dates: October thru December.

Train Shed Exhibit Hall Hours: Thursdays- Sundays, 11 am - 4pm; and Wednesdays, 1 pm - 4 pm. 2020 Dates: September thru December
Price: No admission to visit the Snoqualmie Depot. $10 per adult (age 13+), $5 per child (2-12) to visit the Train Shed Exhibit Hall. $20 per adult (age 13-61), $16 per senior (age 62+), $10 per child (2-12) for Train Rides.

Related Sites: Chapel Car 5 Messenger of Peace, Wellington Remembered.